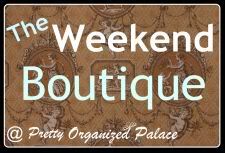 I am delighted to participate in Pretty Organized Palace's
Weekend Boutique
! What fun to peek in and see what all you crafty people have been hand making with love. And I'm hoping for a little PR for my
PrairieCottageRose
&
Puddintoes
Etsy shops, too
:
)
Today I'm highlighting the newest
a
u
t
u
m
n
handiwork from PrairieCottageRose:
Harvest moonlight hand painted plate. This is a pattern from Terrye French and one of my favorites to paint. Love the prim moon watching over a little saltbox farmhouse and the scarecrow guarding the pumpkin patch.
Prim ruffled turkey and pumpkin table runner. (Mr. Turkey is trying to hide out in the punkin patch. Thanksgiving is coming, you know
:
)
A prim scarecrow table runner. He has forsaken the corn patch in favor of his beloved pumpkins. He may, in fact, be the very same scarecrow in the above painted plate. There
is
an uncanny resemblance.....
See more of my Scarecrow and Turkey pumpkin runners and harvest moonlight hand painted wood plate
here
.