Did you know olive oil is good for more than cooking? Straight from the bottle, it is an excellent moisturizer and it is the star ingredient in our favorite cleanser... gentle enough for sensitive skin, yet removes stubborn makeup and mascara with ease.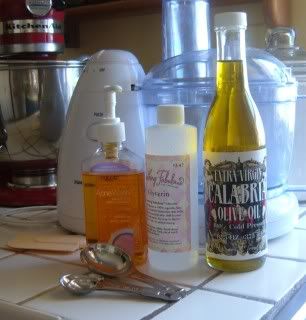 Just 4 ingredients- olive oil, glycerin, liquid facial soap, and water. Any olive oil will do- it does not have to be the most expensive oil in the store. I get my glycerin from Hobby Lobby's soap making section (with my 40% coupon!). One bottle of glycerin will make at least 3 triple batches of cleanser. Be sure to use a facial soap you have tried before and know your skin is okay with.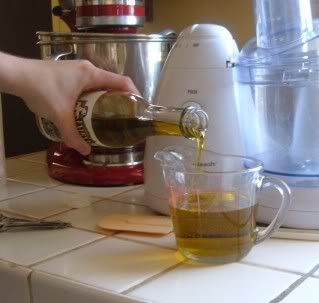 Measure olive oil. We are making a triple batch today. You can multiply the recipe according to how much olive oil you have.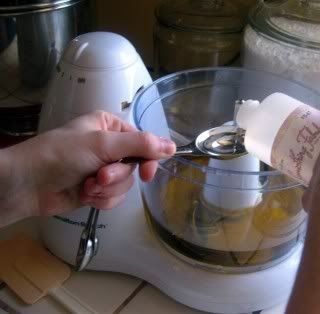 Measure the glycerin, liquid soap and water. Remember to multiply them too, if making more than a single recipe.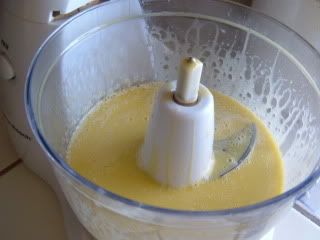 Process in the food processor until it thickens slightly and is lighter in color, usually less than a minute.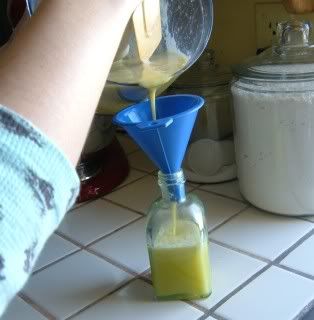 Using a funnel, pour it into your containers. We are using a glass bottle from the thrift store and a plastic squeeze bottle that once contained liquid soap.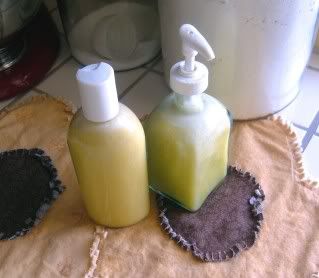 This recipe is very forgiving. It works with any kind of liquid face or castile soap. You can leave out the glycerin in a pinch, but the cleanser doesn't "glide" as well without it. Yours may look slightly different than mine.... the color and thickness will vary, depending on the brand of soap and olive oil you use. It sometimes separates. Just give it a little shake before using.
Olive Oil Cleanser
1/2 cup olive oil
1 tablespoon liquid face soap
1 tablespoon water
1 tablespoon liquid glycerin
Measure ingredients into food processor or blender and process until lightened in color and slightly thickened. Pour into a pump or squeeze bottle using a funnel and store at room temperature. Gently massage into damp skin and remove with a warm washcloth. Safely removes eye makeup.